Corona Del Mar is a charming coastal village located in the heart of Newport Beach, California with a population of approximately 13,102. The neighborhood is most known for its stunning beaches, including Corona Del Mar State Beach, which is a popular destination for swimming, sunbathing, and surfing. The community is also home to a variety of upscale restaurants, cafes, and boutiques, which offer a range of dining and shopping experiences.
Corona Del Mar also known as "CDM" is known for its excellent schools, including Harbor View Elementary and Corona Del Mar High School, both of which have received numerous accolades for their academic programs. Living in Corona Del Mar is that the community is home to a variety of parks and open spaces, including the Begonia Park, which features a playground and picnic area, as well as the Environmental Nature Center, which offers educational programs on local ecology and conservation.Corona del Mar encompasses numerous upscale communities including Cameo Shores, Cameo Highland, Shore Cliffs, Corona Highlands, Irvine Terrace, Harbor View Hills, Jasmine Creek, Spyglass Hill, The Terraces, Sandcastle, and China Cove.
Locals of all ages reside in Corona del Mar, from veteran homeowners who love the location to young families who appreciate the easy access to great amenities that the area offers. Finally, living in Corona Del Mar offers residents access to a range of outdoor recreational opportunities, including hiking, biking, and water sports, making it a popular destination for active individuals and families.

The median price for a single family home in 2022 was $4,550,000 for2,800 square feet on a lot size of 7,522.

The median price for a condominium in 2022 was $2,500,000 for 1,665 square feet.
Want the full market report for Corona del Mar, CA?
We want to ensure that you have all the information needed to make the best decisions when it comes to your home goals. When you enter your info below you will get instant access to the area's latest market report, complete with sales and demographic trends.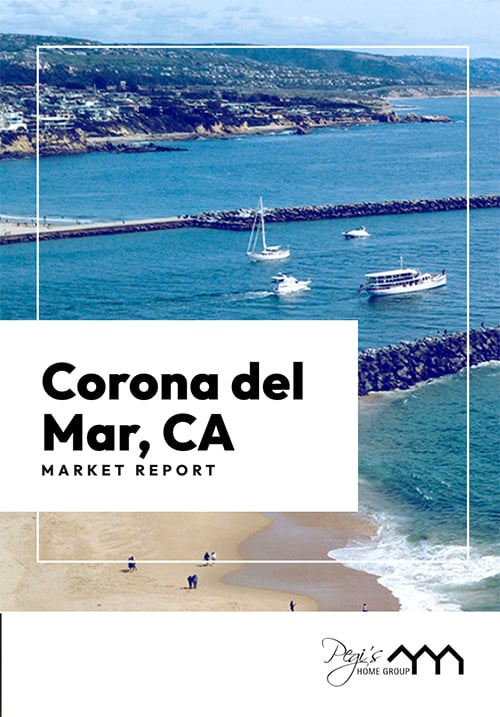 Schools In The Area
Check our schools near Corona del Mar.