Irvine is one of the largest cities located in Orange County, California with a population of approximately 328,000 and an unemployment rate of 3.0%. It's 45 miles south of Los Angeles, 90 miles north of San Diego and miles from the Pacific Ocean at its center.
Originally named after James Irvine, who was a prominent landowner and businessman in the late 1800s, it's the 72nd largest city in the United States. Irvine is also home to the University of California, Irvine, which is known for its strong research programs in fields like computer science and engineering. The city is also notable for its master-planned community, which was designed to promote walkability and sustainability.
Additionally, Irvine has been named one of the safest cities in the United States, with a crime rate significantly lower than the national average ranking the safest big city since 2005 according to the FBI. Irvine is a world leader in science, technology and medicine and is the #1 hub in Orange County for economic activity accounting for 49 of the top publicly traded companies.
According to Niche.com. It's the second best school district in the county and the 3rd healthiest city in America and offers over ⅓ of its 66 square miles preserved in parks, natural open space and trails.
Irvine is also home to the Irvine Spectrum Center, a popular outdoor shopping and entertainment complex that features over 130 stores and restaurants.
Want the full market report for Irvine, CA?
We want to ensure that you have all the information needed to make the best decisions when it comes to your home goals. When you enter your info below you will get instant access to the area's latest market report, complete with sales and demographic trends.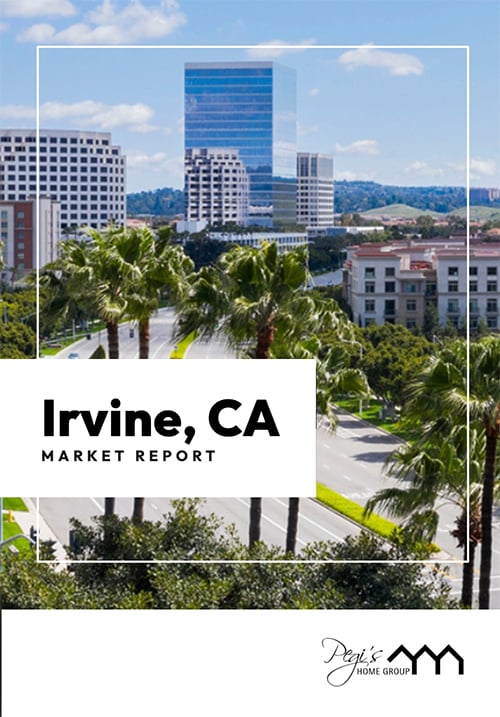 Schools

IUSD Ranks No. 1 in California for Standardized Testing
The Irvine Unified School District's (IUSD) state standardized assessment scores have outperformed both state and Orange County averages with IUSD ranking No. 1 in California in Science, Mathematics and English Language Arts/Literacy (ELA) for public school districts of 35,000 or more students.
Read more here: https://iusd.org/article/iusd-ranks-no-1-california-standardized-testing
To find out how other schools rank in Orange County please access GreatSchools.org.